The mountains are calling and I must answer
Oct 01, 2017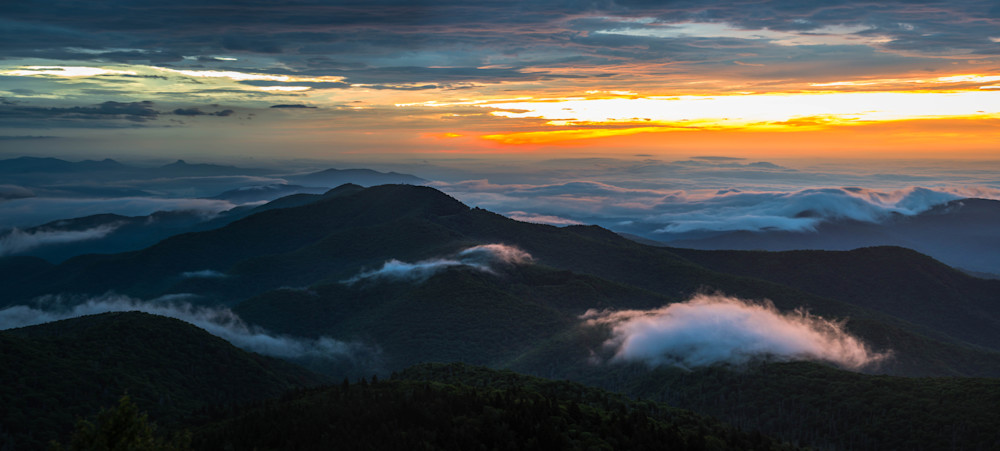 What is it that draws us away from our hectic schedules and responsibilities and in to the mountains?
For many of us, there is a threshold that is reached in our stress barometer that requires us to disconnect from every day responsiblities, even if for a few hours.
I had the following morning off from work so I called a fellow photographer and adventurer, Halley Burleson, to see if she was up for an early morning adventure in order to witness this amazing scene along the Blue Ridge Parkway in North Carolina during sunrise. Without hesitation, we both agreed that waking up around 5 a.m. would be worth it to see the amazing moment when the sun revealed the beautiful landscape of the Appalachian Mountains as the fog rolled through the valleys and ridges.
Life doesn't always go according to plan. We arrived at this location when it was close to zero visability. It was about 20 minutes before sunrise, and we were almost ready to give up hope that the fog would clear enough to see the sunrise. The first light appeared on the horizon, but was still pretty dark. As we almost gave up hope, the fog suddenly parted and allowed us to see the the silhouette of the mountains. We knew that we were about to witness an extraordinary and colorful morning. The clouds and fog were moving fast. You could see the fog rolling over the valleys and ridges which enhanced our experience even more.
Then, the sun broke through the horizon. This is the brief moment of each day that causes so many of us that are so connected to nature to pause and forget anything else exists. These are the brief moments that time stops for us.
I wanted to ensure this moment was captured, and I was able to let this moment live on through this photograph. The reason I love photography is because it gives me the ability to capture them so I can share it with others and also remind myself of the emotions that scenes like this give me when I want to get away from reality and the daily stress that builds up.
As fast as it disappeared to reveal the amazing landscape before us, the fog rolled back in and the landscape disappeared again.
That was ok because those few minutes were all we needed to refresh our souls with this visual experience and to capture it in an image that I will keep forever.
I hope you enjoyed this article and look forward to sharing more of my adventures with y'all.
Serge Skiba